Actualités de la galerie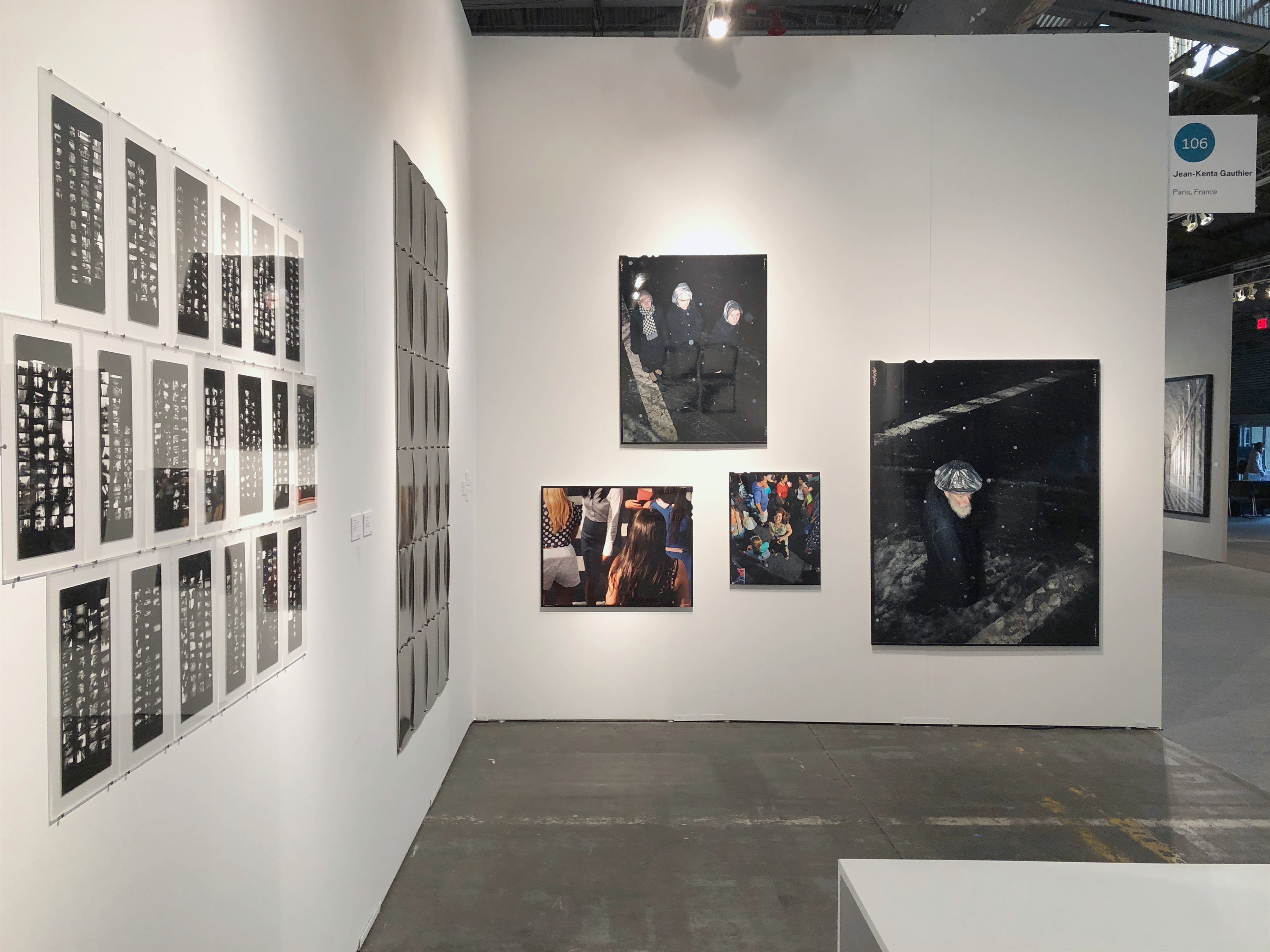 AIPAD The Photography Show 2018
05.04.2018 - 08.04.2018
Pier94, New York
il y a 7 jours
We are pleased to announce our first participation at AIPAD, the historical US fair dedicated to photography, with works by Tadao Ando, Daniel Blaufuks, Raphaël Dallaporta, Alfredo Jaar, Ethan Levitas, Daido Moriyama and Daisuke Yokota on view at booth 106.

The Power of Words (1984), a historical work by internationally acclaimed artist, architect and filmmaker Alfredo Jaar (b. 1956, Chile), was shown in 2007 at the Wesleyan University, Connecticut, USA, and in 2008 in Alfredo Jaar: Politics of the Image at South London Gallery, London, UK. This early photographic work, consisting in a composition of 16 phtographs of typewriters printing political images, was made little after Jaar settled in New York after leaving the Chilean dictatorship in 1982.

Jaar's The Power of Words will dialogue with three works from the series Preambles (2016) by Ethan Levitas (b. 1971, US) for which the artist typewrote directly onto the surface of large format negative films some tautological texts resulting from the confrontation between the artist's camera and authorities in the public space throughout New York. By processing and mounting these negatives in LED lightboxes, the artist metaphorically processed words with light, leading words to become the photograph, and viceversa.

Photographs in 3 Acts (2011-2015) is a major project by Ethan Levitas for which the artist materialized every component of the photographic act. For Frame 32 (2012), Frame 417 (2013) and Frame 418 (2013), Levitas manually raised a large format camera to obstruct the perspective of public surveillance cameras, thereby establishing new frames of view in order to reposition photography in the public space.

In 2012, Daido Moriyama (b. 1938, Japan) created Labyrinth, a monumental endeavor for which he selected over 10 000 negatives and filmstrips in order to recreate illusionary contact sheets a photographic object dear to most photographers but never used by Moriyama who always worked directly from negatives. On view will be Labyrinth ('71 NY) (2012), a unique set of 19 Labyrinth gathering hundreds of photographs made by Moriyama during his first trip abroad, a travel to New York City on the winter of 1971.

ANDO BOX III (2017) is a limited edition photography portfolio of Tadao Ando (b. 1941, Japan)'s architecture photographed by himself. The portfolio contains photographs of Ando's architecture located outside of Japan and captured through his own perspectives. It includes eight small size and one framed triptych of Ando's photographs, all in platinum-palladium prints, as well as an original signed drawing of one of Ando's most emblematic realization in the US, the Fort Worth Museum in Texas. ANDO BOX III is a personal anthology of the international works of the worldrenown, 1995 Pritzker Architecture Prize winner.

From 2009 to 2016, on a daily basis and using different photographic techniques, Daniel Blaufuks (b. 1963, Portugal) photographed the window in his own kitchen in his Lisbon apartment. Entitled Attempting Exhaustion, this series of photograph refers to French writer Georges Perec's Attempting Exhaustion of a Place in Paris (1975) in which the author took notes of that which is generally not taken note of, that which is not noticed, that which has no importance: what happens when nothing happens other than the weather, therefore creating a work focused on the infra-ordinary with obvious links to contemporary photography, as Blaufuks wrote. 12 de Maio de 2016 2:55 (2016) is a small, intimate example of Blaufuks' endeavor with the series Attempting Exhaustion, whereas Dia positivo (tentiva de esgotamento) II (2016) is a photographic object composed of 30 diapositives slides mounted and framed, embodying the passing of time with an aspect that some would compare to a calendar.

H080-070 (-) (2015) from Covariance series by Raphael Dallaporta (1980, France) is a composition of four images created from mathematical functions integrating a covariance principle - a concept used in theories of probabilities and statistics - and materialized in the form of cyanotypes over platinum palladium prints, offering the illusion of fragments of clouds in a cosmic sky. Covariance is also a reference to Alfred Stieglitz's equivalent (1925-31) series of photo- graphs of clouds.

Inversion (2015) by Daisuke Yokota (1983, Japan) is a series of unique solarized gelatin silver prints made by overlaying photographs from Yokota's personal archive, resulting in figurative and abstract imagery, as a metaphor of the artist's state of consciousness and an attempt to sum up his own memory. On view will be a unique set of 24 prints.